Instruction
First of all: If you are not a trained craftsman, give the repair to an expert. You will find a list of restorer here -click-
We are not responsible for incorrectly performed work. All instructions are for guidance only, everyone is responsible for his work his self!
Special thanks for the good pictures to our kind customer Alexander Wendl!
The adhesive has just an open time of only 5 minutes, so we recommend to properly prepare all working steps (for example, if the crack can be closed again without splinters of wood in between)!
If you are unsure with the adhesive, test the adhesive before you begin the work. Warning, the mixing tube can be used only one time!
1. Disassemble the Lounge Chair.
2. Remove carefully drive-in nut. Give some soft hammer blows from top to untighten the nut. Than screw the screw from underneath into the nut and press it carefully out.
Unscrew the push button. It will be screwed back to a predetermined hole after adhesion of the sheet.
Mark the area where the panel will go.
3. Remove paint and roughen the area.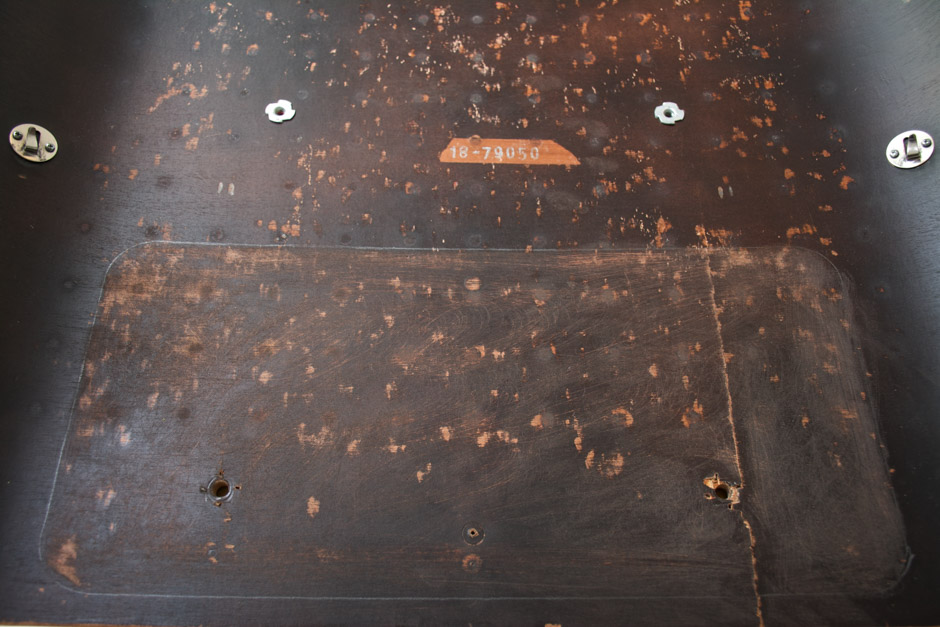 Dedusting and degrease properly both, wood and Repair Panel with Surface Cleaner Spray.
4. Mix the adhesive. Use the supplied mixing tube and, if necessary, mix again with the wooden stick. Remember, the adhesive has an open time of 5 minutes!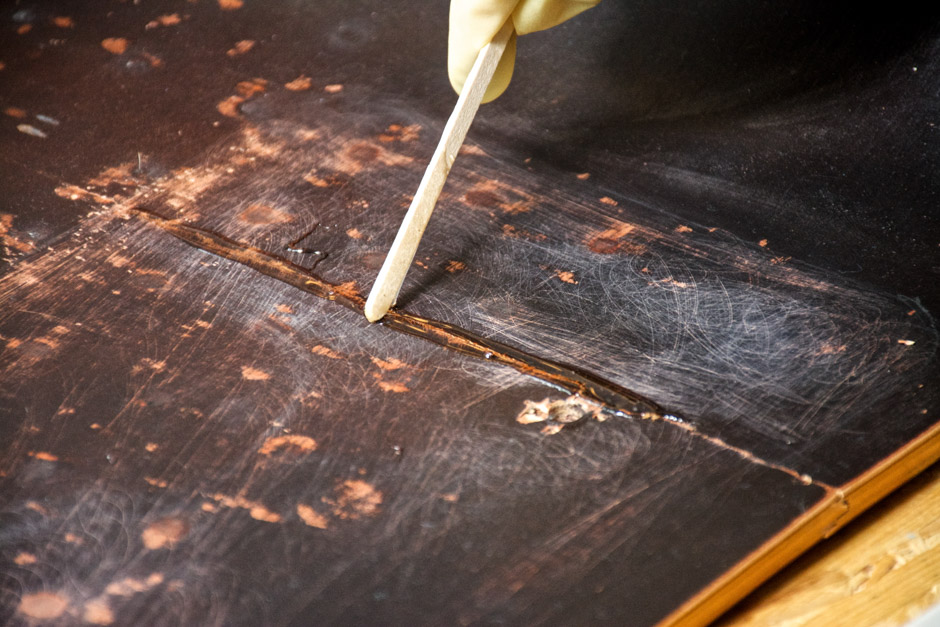 5. Fill crack with adhesive and adjust the parts exactly.
6. Distribute the adhesive with the toothed spatula precisely on the area of the repair sheet to the wood. It should be enough adhesive to come slightly into the square holes!
7. Set the repair panel with the bushing into the drive-in nut hole. Take care that no adhesive get into the thread hole (e.g. use a screw to fill the hole)!
8. Set a clamp with very low (!) pressure on wood and repair panel. The pressure is only needed to bring the bushings in and the panel into the form, the adhesive do not need pressure! Too much pressure prevents the adhesive adhere well! There MUST be an adhesive layer of minimal 2/10 mm (01⁄64″ thickness of a postcard) between wood and panel!
9. Re-assemble the seat support or complete base into the bushings of the repair panel.
10. Wait at least 24 hours, better 48 hours to give the adhesive enough time to dry and react.
11. Reassemble the the Lounge Chair and enjoy.
Produkt-Beschreibung
Set Eames Lounge Chair Reparaturblech Sitz
Ein bekanntes Problem von Vintage Eames Lounge Chairs ist ein Riss der Sitzschale von der Rückseite auf den erste Befestigungspunkt des Drehkreuzes.
Um dieses Problem in den Griff zu bekommen, haben wir mit einem Restaurator ein Reparaturblech entworfen. Das Blech gibt dem Lounge Chair neue Stabilität und kann so viele weitere Jahre Freude bereiten.
Das Set besteht aus:
1x starkes Laser geschnittenes Edelstahl Reparaturblech mit 2 installiert Gewindebuchsen
1x Kartusche 2-Komponenten-Spezialkleber 24g
1x Oberflächen Reiniger 150ml
1x Paar Handschuhe
1x Holzstab zum Mischen des Klebers
1x Zahnspachtel
Installationsanleitung
Zunächst: Wenn Sie kein geübter Handwerker sind, geben Sie die Reparatur zu einem Fachmann. Eine Liste von Restoratoren finden Sie hier -klick-
Wir sind nicht für falsch ausgeführte Arbeiten verantwortlich. Alle Anweisungen sind nur als Hinweise zu verstehen, jeder ist für seine Arbeit selbst verantwortlich!
Der Kleber hat eine offene Zeit von nur 5 Minuten, deshalb raten wir dazu, alles gründlich vorzubereiten (z.B. ob der Riss sich schließen lässt, ohne das Holzsplitter dazwischen liegen)!
Wenn Sie unsicher mit dem Kleber sind, testen Sie den Kleber bevor Sie mit der Arbeit beginnen. Achtung, das Mischröhrchen lässt sich nur ein mal verwenden!
1. Zerlegen Sie den Lounge Chair. Wenn Sie hierfür eine Anleitungen brauchen, sehen Sie sich unser Video an -klick –
2. Entfernen Sie vorsichtig die beiden Einschlagmuttern. Geben Sie einige leichte Hammerschläge von oben auf die Muttern um sie lösen . Dann schrauben Sie eine Schraube von unten in die Mutter und drücken Sie sie vorsichtig heraus. Schrauben Sie den Druckknopf ab. Er wird nach dem Verkleben des Blechs durch ein vorgegebenes Loch wieder angeschraubt.
3. Entfernen Sie ggf. Lack und rauen Sie den Bereich auf. Entstauben und entfetten Sie gründlich sowohl Holz-, als auch Reparaturblech (ggf. vorher anzeichnen).
4. Rühren Sie den Kleber an. Benutzen Sie hierfür das mitgelieferte Mischröhrchen und mischen Sie mit dem Holzstäbchen ggf. noch mal nach. Der Kleber hat eine offene Zeit von nur 5 Minuten!
5. Füllen Sie den Riss mit Spezialkleber und richten Sie die Teile genau aus.
6. Verteilen den Spezialklebstoff mit dem Spachtel genau auf den Bereich, den das Reparaturblech später abdeckt. Es sollte genug Klebstoff sein, so das der Kleber leicht die quadratischen Löcher füllt.
7. Legen Sie das Reparaturblech so auf, dass es mit den Buchsen in den Löchern der Einschlagmuttern liegt. Achten Sie darauf, dass kein Klebstoff in das Gewinde Loch gerät (z.B. eine Schraube einschrauben)!
8. Setzen Sie eine Zwinge mit sehr niedrigen (!) Druck auf Holz-und Reparaturblech. Der Druck wird nur benötigt, um die Buchsen einzupressen und das Blech in die Form zu bringen, der Klebstoff braucht keinen Druck zum Aushärten! Zu viel Druck verhindert, dass der Klebstoff gut haftet! Es muss eine Klebeschicht von mindestens 2/10 mm (Dicke einer Postkarte) zwischen Holz -und Reparaturblech sein !
9. Schrauben Sie das Drehkreuz von unten (in die 2 Buchsen des Blechs) leicht fest (auch hier nicht zu hohen Druck aufbringen).
10. Warten Sie min. 24h, besser 48h damit der Kleber genug Zeit zum Durchhärten hat.
11. Bauen Sie die den Lounge Chair wieder zusammen und genießen Sie das Resultat Ihrer gelungen Arbeit.